Current Version for Joomla 3
Current Version for Joomla 4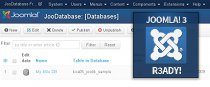 Do you like JooDatabase?

JooDatabase is real Open Source an does not display any advertising backlinks like many other components. If you like JooDB and want further development please vote for our component at » extensions.joomla.org
Pro becomes free for everyone

The JooDB version for Joomla 4 is now completely free without adds or any limitation. That means you get all the additional functions of Joodb 3pro.
multiple tables?
import from MS Excel?
parametric search?
We are currently working on a free 3.x version and a central git repository for issues e.g.