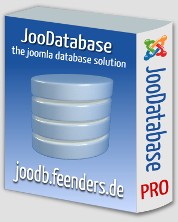 Do you want to use JooDatabase in a professional environment? Do you need some advanced Features or just want to graduate the Work?
You should GO PRO for only 47,50 €*
Here are some of the features of the PRO version
Multiple tables and sub-forms using relational connections like (1:1, 1:n and n:m)
Import for Excel spreadsheets
Category select search options for parametric search
Ticket system and developer support (No 24/7 - Support ...)
Online update service using the Joomla update mechanism (Version +1.6)
PRO-license is valid for one domain.
Straight away after receiving your payment you´ll get your download-link, license key and your invoice.
We accept payment by PayPal. In most countries PayPal offers also payment via credit-card and bank-account without having a PayPal account.
If you don´t want to use Paypal we offer also bank-transfer.
After receiving your money and a E-Mail with Name and Address we´ll send you your invoice and key.
Joest Feenders
IBAN DE70 1005 0000 6604 0560 99
BIC BELADEBEXXX
Name of Bank: Landesbank Berlin - Berliner Sparkasse
Stop! Before you buy ...
Before you buy the ProVersion - please download our FreeVersion. Take a look, play around and check out if you like and understand functionality and how to customize for your needs. If you get around, like our extension and want more - go Pro.
Adress on your invoice
Make shure you buy / register with the desired data you want on your invoice. The invoice is generated automaticly and uses your account data. In case you need changes, get in contact after checkout and we will help.
You´re not shure if our Extension does what you need?
Again - check out our freeversion to get the idea. Still not shure? Write an email with your detailed question. Please do not call us.
You need individual customizing?
No problem, that´s our job. Write an email with your detailed questions and needs. Make shure to include your contactdata - we will not answer anymous emails. We will get back to you with our offer.
We do get a lot of questions like "what is a relational Database" ...
Please consider - we will not answer questions like that.
And if you ask - PLEASE - give as much information as possible!
* All prices include VAT / Alle Preise inkl. MwSt.